Happy Watoto Homes & School
Our locations in the greater Arusha area, Tanzania
Tanzania is one of the ten poorest countries in the world. The average income is 1$/day. Poverty is, unfortunately, an omnipresent problem that the people of Tanzania are fighting against, and due to poor essential services, people often lack the most basic necessities. Medical care is inadequate, and the population's overall health is correspondingly poor. HIV education is often insufficient, and the lack of clean drinking water in many places exacerbates the health problems. Tanzania is also underserved in the area of education. A lack of trained teaching staff makes regular English-language school lessons impossible in many areas. English is the prerequisite for attending secondary school and thus for the positive future prospects of our children. 
We cannot be active in all of Tanzania, but we do our best to give "our" children in the Happy Watoto Homes & School a healthy upbringing in addition to a sheltered home and the necessary schooling for a self-determined life.
Growing up in the Happy
Watoto Homes & School
In Tanzania, children in need, street children, orphans or victims of abuse and poverty have a harrowing fate. Our two projects in Kikatiti and Ngorika form the Happy Watoto Homes & School, a collaboration between the Förderverein Good Hope Centre e.V. The Happy Watoto Foundation,. Happy Watoto Homes & School offers a home, kindergarten and school for about 160 children, where they can grow up in security – the basis for a good life.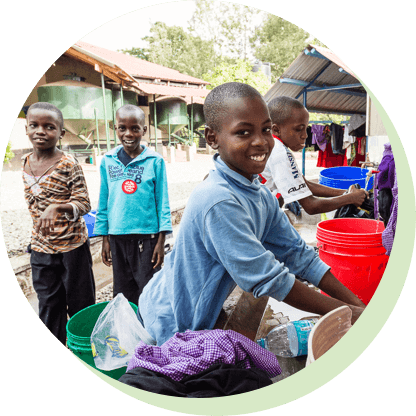 Happy Watoto Home &
Kindergarten in Kikatiti
Happy Watoto means "happy children" and this name should be the goal in all our facilities. Our partner organisation Happy Watoto NL runs the Happy Watoto Home in Kikatiti. At present, about 60 small children between the ages of 3 and 6 live here. They are lovingly cared for and attend the English-speaking kindergarten to get a good basic knowledge of the English language, which is so important for further education and job prospects, e.g. for attending our primary school. There are child-friendly rooms, a large playroom and plenty of space to romp around. Even the very youngest children proudly wear their red and white uniforms when they attend kindergarten. At first, many children are reserved, but over time, each of them blossoms with us.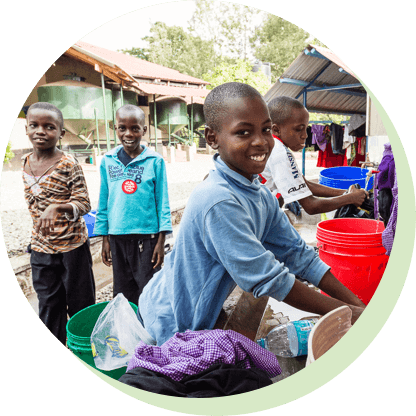 Happy Watoto Home in Ngorika
Our children live in the Happy Watoto Home in Ngorika, a small village in the mountains about 7km from Kikatiti. Happy Watoto is currently home to 104 children aged 7-15. Here they eat, sleep, romp, laugh, learn and cry. A self-contained complex forms the home in which the girls live on one side and the boys on the other. They live in rooms with four beds and with children of different ages – in this way, we strengthen the social responsibility of the children among themselves. A mosquito net protects each bunk bed because this part of Tanzania is considered a malaria area, especially during the rainy season. Only English is spoken in the home to promote the children's language skills.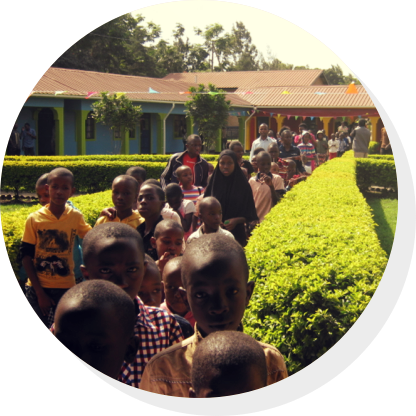 When they enter pre-school, the children of Kikatiti continue to live at the home but attend school in Ngorika during the day. Now they can learn with the "big ones", discover the school and prepare for the exciting primary school years. The pre-school is located in the same building as the school – which in turn is on the same property as our children's home. Our teacher Sophia prepares the children for primary school with a lot of love and commitment and is actively supported by our volunteers.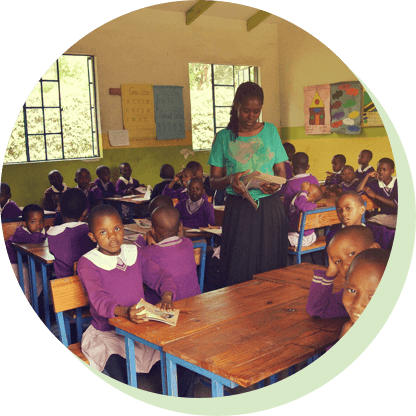 Despite nationwide compulsory education in Tanzania, only about 70% of children attend seven-year primary school. Parents often cannot afford the school fees and teaching materials. The public schools are poorly equipped, and the classes are overcrowded (100 – 130 children per class is not uncommon). 
In our opinion, education is the basis for a better future. So we decided to establish our own school and teach there according to our school motto: "Developing individual talents for a better common future". Fourteen children in each class come from our home, for whom we also pay the school fees, school clothing and teaching materials. The other children come from the neighbouring villages. In the past, when the school fees could not be raised, the school fees were taken over by us, but unfortunately, this is no longer the case due to financial reasons. 
As the school fees do not cover all costs, ALL pupils are partly sponsored. The government prescribes one teacher for every 45 pupils, we have 16 teachers for 270 pupils, for whom the salary must also be calculated. 
Classes are held daily from 8:00-15:00 in relatively small classes (max. 40 children/class) with two teachers each. The curriculum includes English, mathematics, social studies, history, sports, reading, writing and Swahili. Modern media such as PC skills are also taught to the children by a specially trained specialist. What is special about our school is that so far 100% of our seventh graders have passed their primary school leaving exams. We continue to support and encourage them on their path through life and when they attend secondary school and sometimes even university – until they enter their professional lives.